"He is your friend, your partner, your defender, your dog.
You are his life, his love, his leader.
He will be yours, faithful and true, to the last beat of his heart.
You owe it to him to be worthy of such devotion." -- Unknown
WELCOME TO BEOWULF!
We are a small show kennel located in Central Virginia. The origins of Beowulf date back to 1985 in Marlborough, Massachusetts and started with the Beagle bloodlines of Bridal Vale, Chrisette, Buglair and White Acres.

We strive to produce a pretty little hound that demonstrates elegant breed type.  Most importantly these dogs must have the qualities of temperament that allow them to be an excellent companion animal.

Like most, our Beagles are comedians and engage in mischief on a regular basis. Our German Shepherd Dogs are also exhibited at conformation shows but take life a bit more seriously and thus have a full time job trying to keep the Beagles in line.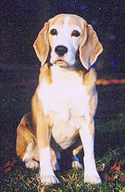 These pages are dedicated to:
Ch Bridal Vale Beowulf Moody Blue

"Blue" was born on Saint Patrick's Day in 1985 and was the beginning of Beowulf Kennel. He was ours, faithful and true, till the last beat of his heart. On December 4 1998, Blue made his final journey home to the angels.