"He is your friend, your partner, your defender, your dog.
You are his life, his love, his leader.
He will be yours, faithful and true, to the last beat of his heart.
You owe it to him to be worthy of such devotion." -- Unknown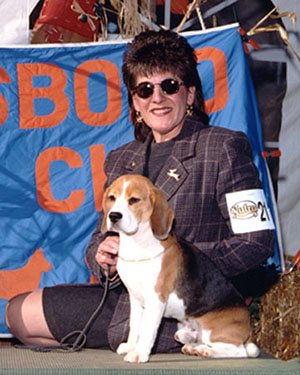 Beowulf Kennel was established in 1985 when Terri purchased her first show Beagle, a 15" tri colored male named Ch Bridal Vale Beowulf Moody Blue. Having grown up with the breed while living in San Francisco, Tokyo, and Chicago, she was then residing in the Boston, Massachusetts area. Meanwhile, on Long Island, New York, her friend Ted Swedalla was just getting started in show Beagles under the kennel name of Temateki.
"Blue" was the son of Ch Chrisette's Macho Man so when the time came for Terri to purchase a foundation bitch, she went to Sandi Robichaud of Chrisette Beagles. The result was Ch Chrisette's Beowulf Kashmir, named for the Led Zeppelin song "Kashmir" about traveling through the Northern most state of India. The breeding of Blue to Kashmir in 1988 was significant for Beowulf as it produced one of their most important bitches, a fancy little 13" gal called Ch Beowulf Days of Wine and Roses, otherwise known as "Chablis."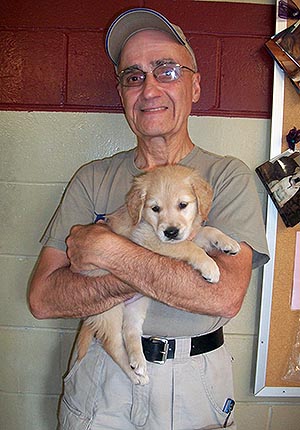 Meanwhile, back on Long Island, Ted had purchased a beautiful 15" bitch named Ch Buglair Belle of Temateki from Garland and Karen Moore of Buglair Kennel.  "Spice" had a lovely length of leg and a gorgeous side gait to go with them. Her first time in the ring (at 6 months old), "Spice" went Best Of Variety over Best In Show specials both days which found her at the end of the weekend with 10 points and two majors. The comment by respected judge, Mr. Frank Sabella, was "Finally someone brings me a Beagle that looks like a Beagle!" Seven years later, Mr. Sabella repeated himself (and most of his quote) when he judged "Spice's" six month old son "Clapton" and awarded him a five point Best Of Variety win over specials at the competitive Boston cluster.
Terri had tried steadfastly to purchase "Spice" from Ted while she was still a pup, however Ted refused to sell her. Ted did make a counter-offer which entailed the even trade of "Spice" for "Chablis," however Terri would not have any part of that. There is some conjecture in certain camps that these two bitches were the true impetus for Ted and Terri's marriage in 1991.
Ted and Terri are members of the National Beagle Club Of America, the Southern New York Beagle Club, and the German Shepherd Dog Club of America.  Ted is the Founder of The Beagle Rescue Foundation Of America, Inc. a non profit fund raising group which distributes spay/neuter reimbursement monies to direct service Beagle Rescue Groups. He is also the Director of the Supporting Membership of the National Beagle Club of America and is the recipient of the American Kennel Club's "2011 Sportsman of the Year" award.  

In 2010, Ted pedaled his bike 4400 miles from Yorktown, VA to Eugene, OR to raise $7000+ to sponsor a Golden Retriever puppy for a soldier through the America's VetDogs program.  Ted and Terri named the Golden pup "Spice" in honor of Ch Buglair Belle Of Temateki.  Terri is a K9 Handler with U.S. Customs & Border Protection and is a member of the United States Police Canine Association.